Sai Baba's Leela In My Life – Sai Devotee Vishwa Shewnarine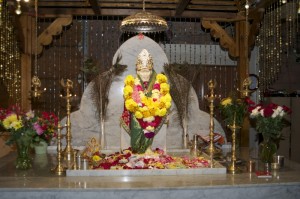 My name is Vishwa Shewnarine and I had an experience that I would like to share with you.
On September 27, 2013 I was in a serious ATV accident. I had managed to break every facial bone and also disconnected my face from my skull. Surgeons said I have to go through a nine hour facial re-construction surgery which would include 2 surgeons and 4 assistants. They also indicated that I may loose my eyesight for life, after surgery.
On October 9, 2013 I had my surgery which lasted nine hours. When they removed my breathing tubes major complications occurred. I stopped breathing for seven minutes. They had to begin working on inserting breathing tubes and forced it down by throat since it was swollen shut. What should have been one day in ICU turned out to be four days. Despite strong medication, my throat remained swollen. They finally decided to put an opening in my throat to induce breathing, while they remove the ventilator tubes as it could have turned out to be infectious.
The night before this procedure, I had unbearable pain, so much so that I thought to myself that I rather die than bare the pain.
This was the moment of revelation for me. When I had given up, I saw a black hole leading me to the sky, I went in this hole and it took me above the clouds. There to my surprise I saw Baba sitting with his disciples in front of him. I thought Baba was there to take me away. I never believed in Baba before this experience. The only time I saw Baba was two years back when the temple was under construction in Mississauga and my friends Raj and Mani asked if I could help transport Baba to the new temple. That was my only contact before this experience.
Baba lowered his hands showing me where I came from (earth) and as I look down I saw the earth the size of my palm. I did not realize Baba was giving me a second chance at life. As I returned I was so scared I could not wait to see my family, to be with them before I die. Only later that Mani explained Baba hands Pointing downwards means he was giving……… giving me a second chance to live.
When my family came I could not speak because during the surgery my mouth was wired shut. I was frantic and so the nurse ran and got some paper and pencil to see what I wanted to say. I could only write the word Baba. My family immediately took a picture and send it to our best friends Raj and Mani who were there from the beginning of this ordeal. They had called on everyone and every temple they know to pray for my recovery. This I learnt after I came out of the hospital.
After the experience the recovery had been so quick that the surgery was not necessary, tubes came out without any pain, that day I was discharged from ICU no procedure were necessary and the following day I was discharged from the hospital. "A miracle" had happened over night according to my surgeon. It is about a 40 days and I have started to go to work for half a day.
I never believed in Baba but after having this experience I know he has given me a second chance in life. Baba saved me!
A special thank you to our friends Raj and Mani and everyone who prayed for my recover. Because of all your prayers Baba heard and listened and today I feel so lucky and so blessed to have met Baba in person.
Last but not least I would like to thank the temple for giving me the opportunity to perform Baba's rituals.
Below is a picture of what I wrote immediately after my experience.
Wonderful Experience
Dear All
I wish to share with you all about a wonderful experience which I cherish the most.
I got a dream in the early morning on a Friday. It seems somewhere they were building a temple of Sai and so all of them were going on a procession with the Gopuram and Kalasam to Shirdi to get baba's blessings. On the way, the people in the procession are having food in our relatives' house. All of us were serving food to all the people. In the meanwhile my husband called me and asked to get the blessings by touching the Gopuram and Kalasam. While I came out the procession had already started. So I rushed and got the blessings by touching the holy work. I just turned and noticed that someone helped Baba to come and I went and touched Baba's feet to get his blessings. He looked at me and smiled. Baba was in that procession the whole time.
I woke up with a surprise as to why I got such a different dream about a temple built somewhere. After a week Baba made me understood that it's the same temple's (Where I usually go in Mississauga) Gopuram that was constructed and they have planned to go for procession on its first anniversary.
It's a miracle and Baba is boundless that he approved the work done through my dream.
Satguru Sainath Maharaj Ki Jai !!!!
By
Gayathri Prabhu.
Mississauga.